Some WordPress errors are helpful enough to tell you exactly what the problem is, like "destination folder already exists." Other errors, though, are vague, and none is more of a head-scratcher than the "Are you sure you want to do this?" WordPress error.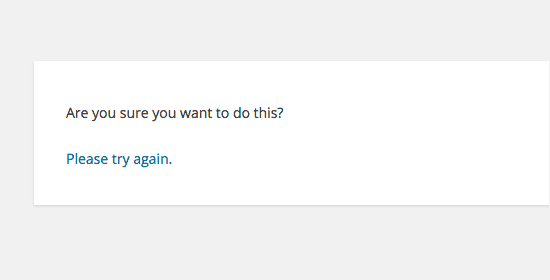 The biggest problem with this specific WordPress error is that it isn't caused – and, therefore, can't be solved – by one specific thing. You may see the error when you're doing one of the following:
Creating a category or tag
Publishing a page or post
Adding an image or file to a page or post
Uploading a plugin or theme
Customizing or updating a theme
Basically, whenever you're carrying out any type of administrator task, you could see that error. Since this error isn't straightforward, it requires you to put on your investigator's hat. We're here to help you with that.
Before you move on, clear your cache and cookies. Chances are this won't solve the problem, but if it ever did, you'll avoid having to fiddle with sensitive backend WordPress files.